Exim Bank has donated over 110 hospital mattresses, sanitary towels, diapers, milk, sugar, clothes and other essential items to the Female Ward in Butabika Hospital. The Bank also painted the waiting room at the Female Convalescent Ward.
This was on the Bank's recent visit to the hospital where they were warmly received by the Executive Director Butabika Hospital, David Basangwa.

"The official capacity of Butabika Hospital is 550 but currently, we have about 850 patients. The numbers increase daily while the resources to cater for them remain the same," Basangwa said.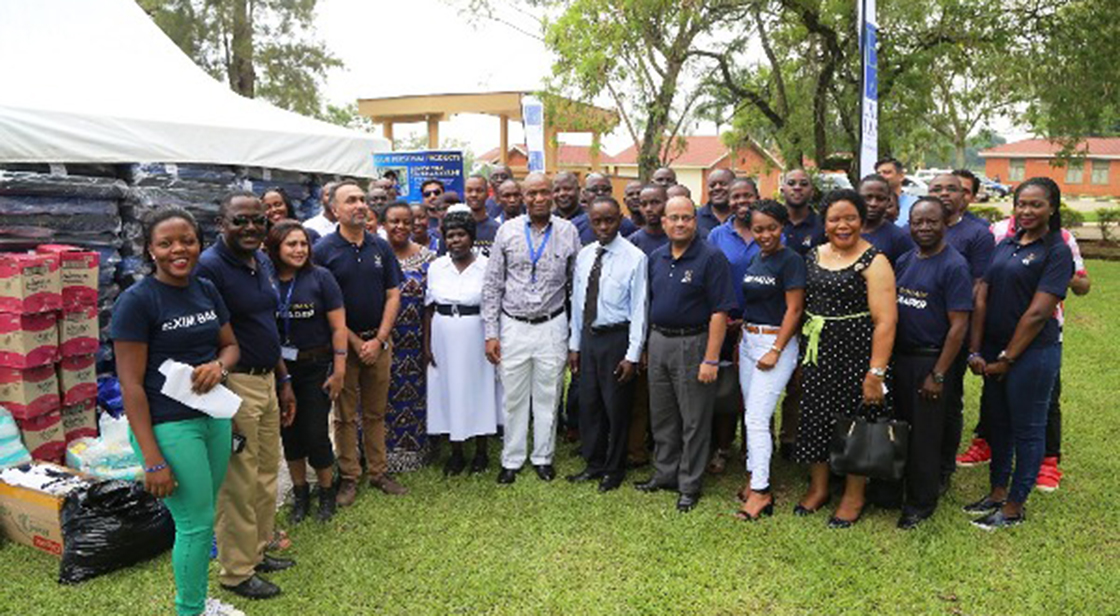 Exim Bank officials in a group photo with Butabika Hospital staff
He therefore expressed gratitude towards Exim Bank's donation which he said will go a long way in ensuring that the patients in the Female Ward have essential supplies for a good period of time.

While handing over the gifts, Exim Bank Uganda's ED, Jawaid Ali said that they had chosen to visit Butabika Hospital because they were aware that not so many corporate companies visit it.

"We are also particularly passionate about women and that is why our final decision was to do something at the Butabika Hospital Female Ward," he added.

Butabika Hospital was established in 1955 and is currently the only National Referral Mental Health Institution in the Country. The Hospital provides specialized care to people with mental illness.

At the same time, it is a teaching hospital for all cadres specializing in Mental Health ranging from nursing cadre to Postgraduate students.

The Hospital also provides Out-patient services to the people from the surrounding area.

Butabika Hospital is about 10 km East of Kampala City and it is the second biggest Hospital in Uganda with a bed capacity of 550, though the number often ranges between 750 -780.

Presently, super specialized services have started in the areas of Alcohol/Drug abuse, Psycho-trauma and Child and Adolescent mental health care. More of such services are expected to develop in other discipline

For this visit, the team from Exim Bank was joined by the Board Chairperson, Sarah Bagalaaliwo, some customers and about 50 members of staff.